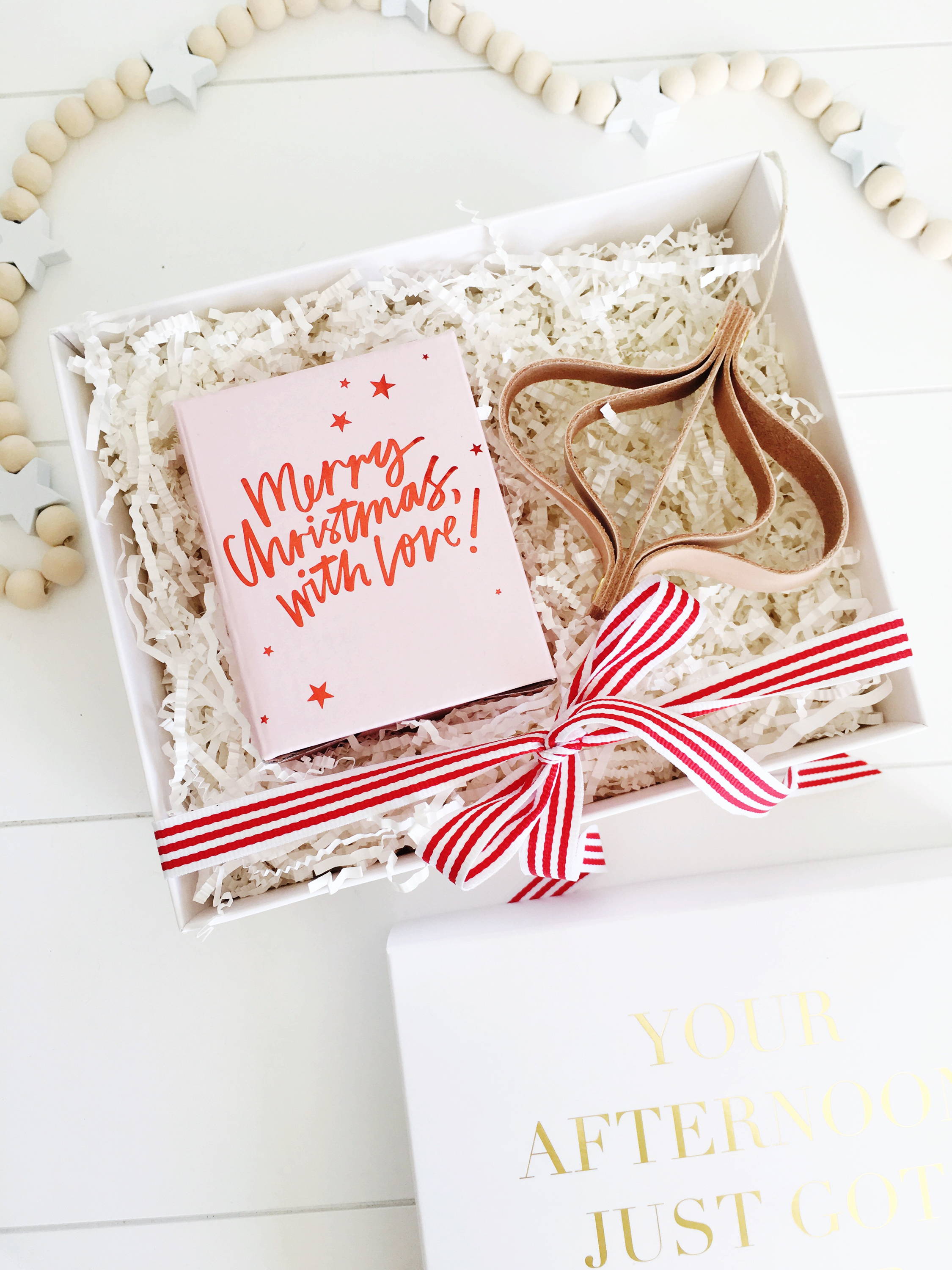 When will the boxes be sent?
All our Christmas boxes are on PRE-ORDER at the moment, this means they will begin being sent from the 3rd of December to arrive in time for Christmas.
How much is shipping?
Use the code XMASLOVE on all our 'big' boxes for $9.95 shipping until October 30th, and code 'MINILOVE' on all MINI boxes for $5 shipping.
How long will it take for my box to arrive?
We dispatch from Melbourne, delivery to Metro cities takes between 3-5 business days, and longer for remote areas. Send us an email to hello@afternoonpickmeup.com.au to get more specific.
What card is included in each box?
This years cards are designed by Bianca Cash and say 'Jingle all the way'. You'll have an opportunity to leave a message for us to write on the back of your card, in the checkout process. Each box is also adorned with Emma Kate Co swing tags with either 'Open Me' or 'Merry Everything' in copper foil.
What is the last date to order for delivery before Christmas?
Melbourne - 17th December
Sydney - 17th December
Adelaide - 14th December
Tassie - 11th December
Brisbane - 11th December
Perth - 11th December
The above are for metro cities, rural areas will need to be shipped before these cut off dates, send us an email if you're unsure.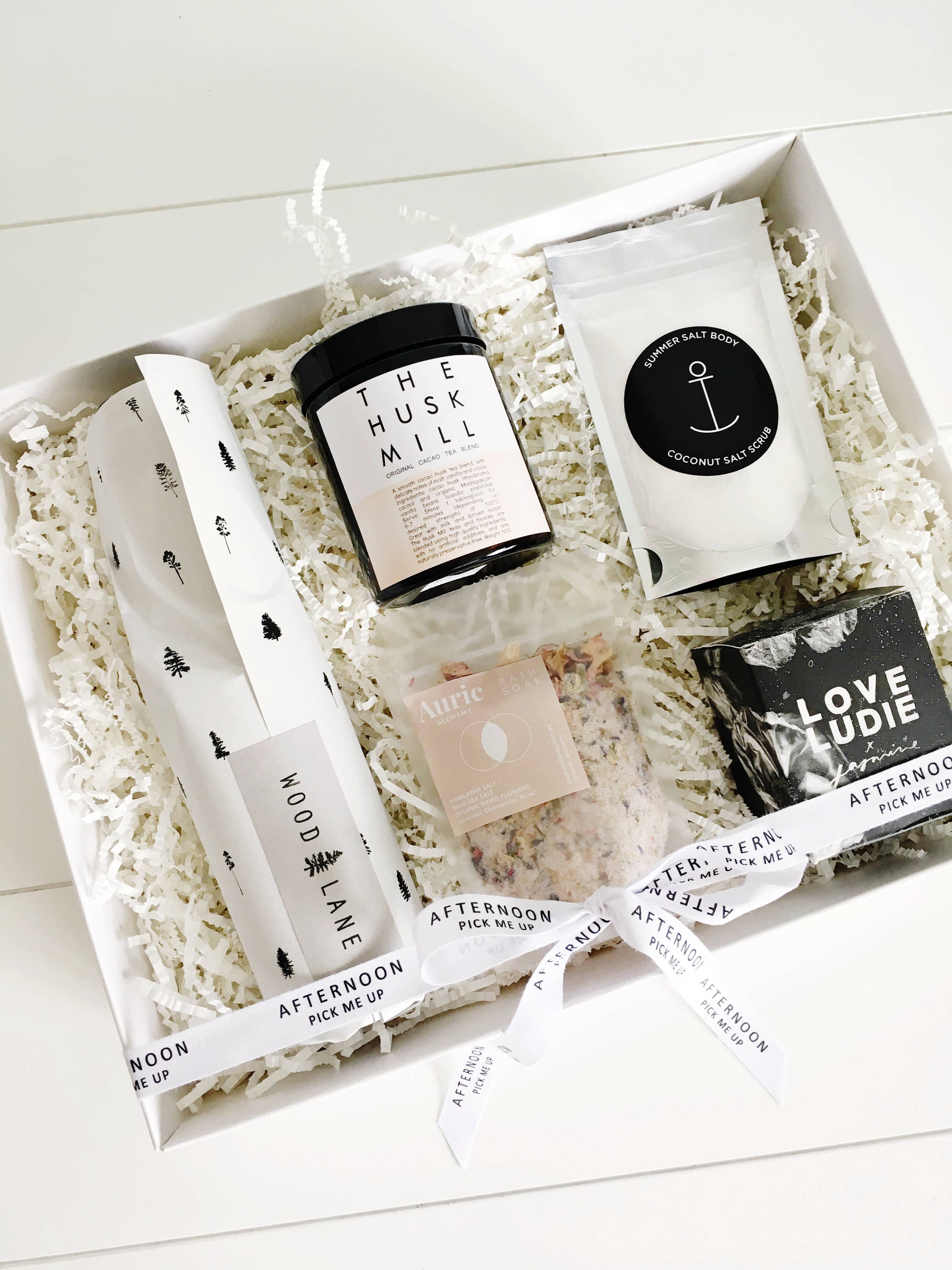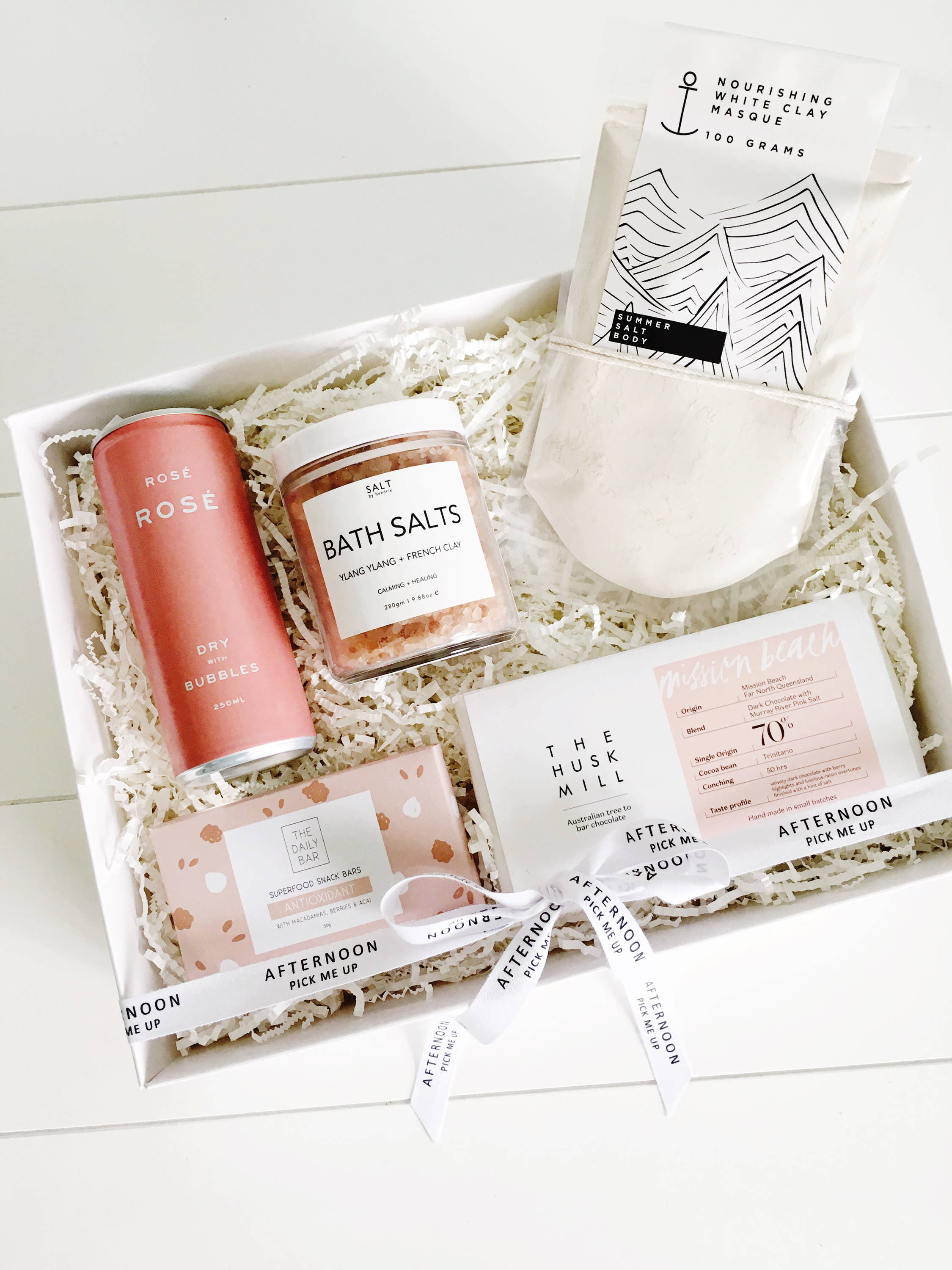 How much is shipping?
We have a flat rate shipping fee of $12.95 all across Australia.
When will I receive my APMU?
Orders are dispatched, Monday, Wednesday and Friday. Please allow 1 business day for processing and hand packing. Please allow 3-5 business days for shipping. Remote areas may take longer.
Where do you deliver?
We deliver our gift boxes nationwide, across Australia!
Is there a card included in each box?
Sure is! Choose your card designed by Bianca Cash, leave a message that you'd like us to write on it, and we'll do the rest.
Does my APMU come as shown in pictures?
All Nationwide APMU's come in our signature white matte boxes, they are filled with white shredded paper to keep all your goodies in place and are tied up with our ribbon and tags. This box is then placed inside a white shipping box, so that the inner box is not damaged.
Can I create a custom gift box?
You sure can! Shoot us through an email to hello@afternoonpickmeup.com.au and let us know what you'd like from our collection of Australian Made products.
What if I want 5 boxes delivered to the same address?
Shoot us through an email to hello@afternoonpickmeup.com.au and we'll organise the best rate shipping we can!
Can I track my delivery?
Sure can! You will have received a confirmation email from us with your tracking details, copy and paste your tracking details into the couriers tracking section of their website and watch your parcel being delivered.
Do you deliver to PO Boxes?
Not at this point in time unfortunately.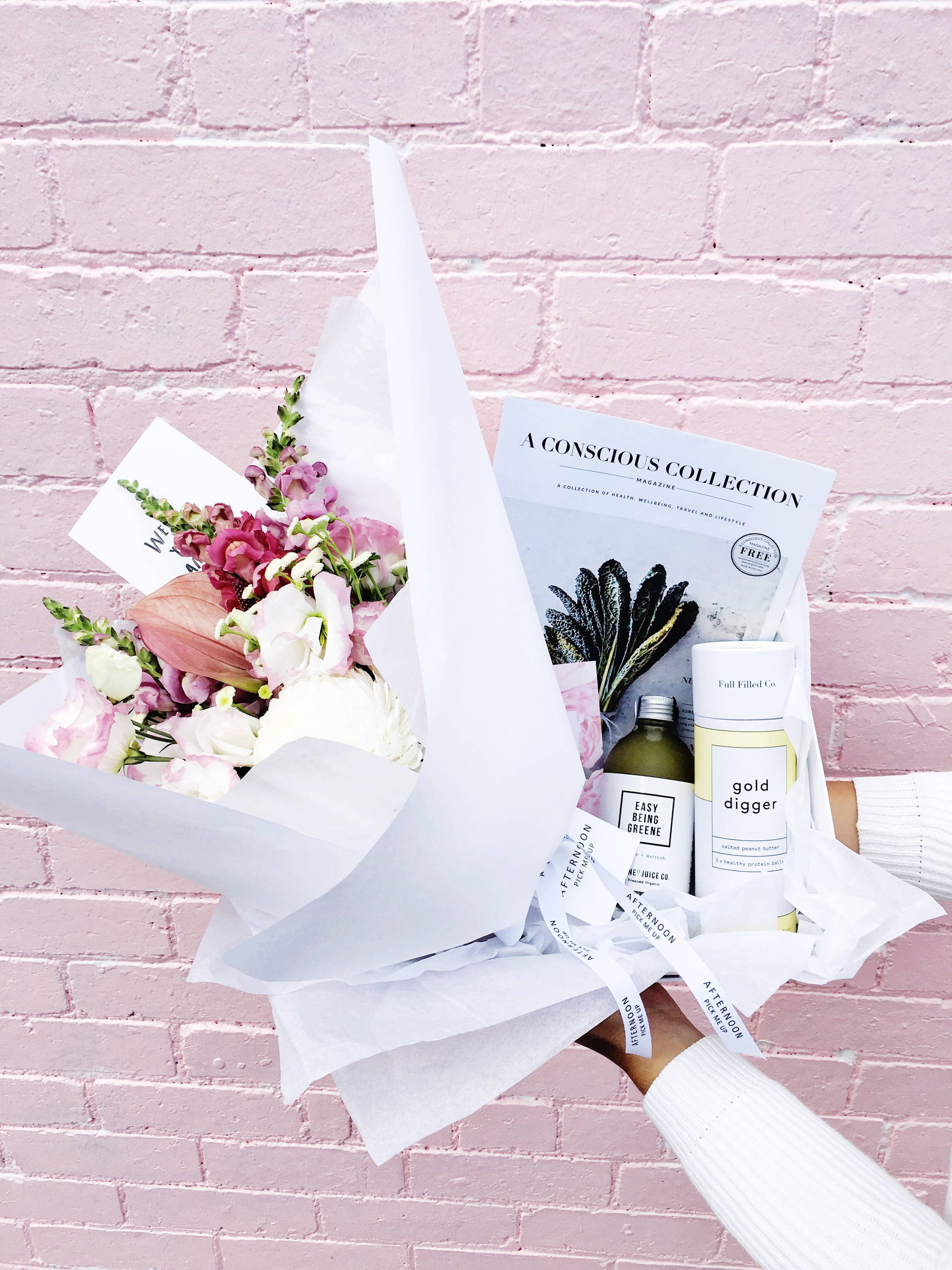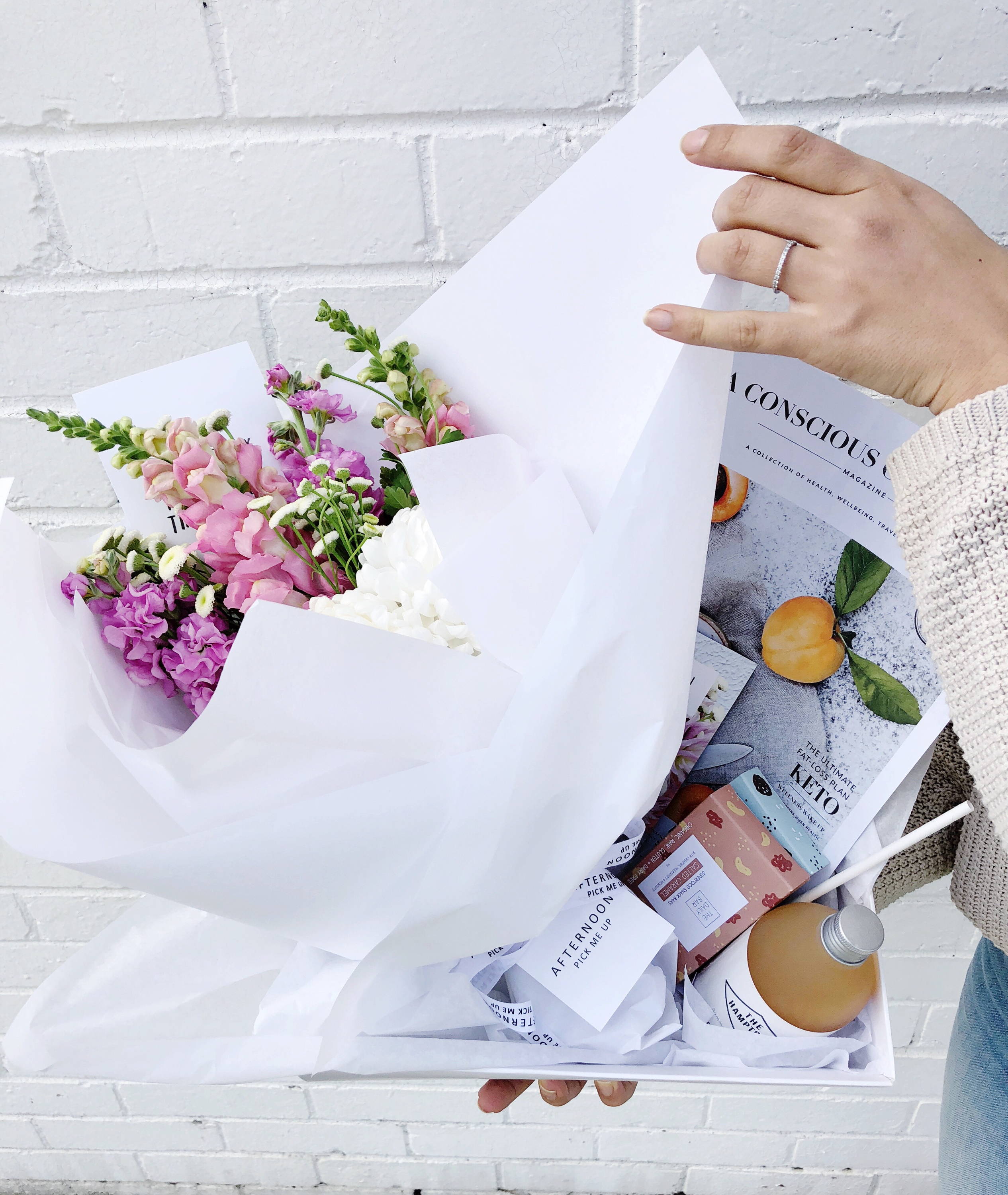 When will I receive my APMU?
Our delivery day is Friday.
Orders on Fridays at 11am for same day delivery.
Can I choose what type of flowers come in my APMU?
Unfortunately, no, this is because we use the freshest, in season flowers available, and can't guarantee what is available each week. You can however, be sure to receive a gorgeous bunch of blooms all year round!
What happens if the recipient is not home?
If the recipient is not home when we attempt delivery, we will leave the Afternoon Pick Me Up in the most secure location we can find.
If there is no safe location to leave the APMU, it will be taken back to our studio. We can redeliver your APMU for an additional fee of $45, this covers new flowers, new cold pressed juice and a redelivery fee.
We take no responsibility of lost or missing APMU's once they have been delivered to the correct address of the recipient if the recipient is not home.
PLEASE NOTE - All items in Afternoon Pick Me Up's are perishable and we cannot be held responsible for any items that perish if they are not received personally by the recipient.
What if the recipient lives in an apartment building?
Many apartment buildings have security access doors that are unaccessible if the recipient is not home.
Please provide us with as much detail as possible in an email, if you know a recipient won't be home we will endeavour to gain access through the security door to leave the APMU in the most secure location possible.
If we cannot gain access, we will call the sender and with permission, the recipient. If we cannot get onto either, the APMU will be returned to our studio and a redelivery fee of $45 to cover fresh flowers and fresh cold pressed juice will be applied.
How should I store my APMU?
For longevity of your blooms, cut 1cm off the bottom of the stalks and place them in water immediately. Keep them out of direct sunlight, and change the water every couple of days.
For Greene St Juice, keep your juice in the fridge until you want to drink it, and note the expiry date on the bottom of the bottle. For optimum health gain, drink before expiry.
What should I do with the box when I've used all my goodies?
Great question! Repurpose it, use it for bits and bobs around the house, or pass it on filled with your own goodies to a friend needing some lovin'!
We'd love to collaborate with APMU, how can I do that?
Yay! We love to collab with like-minded businesses based in Australia. Shoot us through an email to hello@afternoonpickmeup.com.au with your ideas, and we'll be in touch!
How did APMU come about?
Check out our About Us page to meet our founder and learn all about the beginning of APMU